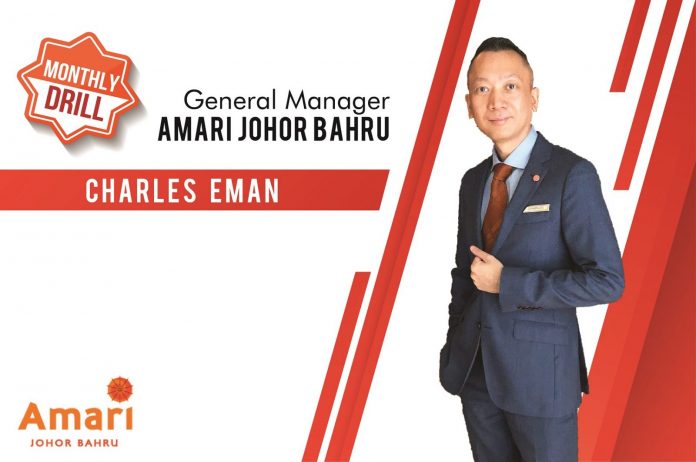 Name: Charles Eman 
Position: General Manager
Company: Amari Johor Bahru
Charles Eman is the newly appointed Amari Johor Bahru General Manager that took charge during the COVID-19 pandemic in the country since April, 2020. Ambiguous by ethnicity with many, often addressing him as either a Sabahan or a Filipino, Charles is a Jakarta native whose career in hospitality built up from Housekeeping and Front Office Manager in Shangri-La Hotel and Four Seasons in Jakarta, Indonesia with crossing over the seas to California and Chicago in the USA, Doha, Qatar, Maldives, then to Malaysia.
A highly driven hospitality professional, Charles pursued a successful career in the international hotel and theme park industry in his over 20 years of experience. He was first introduced to Malaysian nature of hospitality as the Yield and Revenue Manager at the opening of Four Seasons Resort in Langkawi, Malaysia then as Revenue Manager in LEGOLAND Malaysia Resort before becoming the Head of Revenue there.
The diversified and international work experience in operations, sales, marketing and revenue management that he accumulated landed him the Director of Business Development position in DoubleTree by Hilton Johor Bahru then as a Resort Manager in Berjaya Tioman Resort in 2018 until March 2020 before accepting his role in Amari.  
You took the helm of Amari Johor Bahru (Amari) right in the middle of a nationwide lockdown. What were the challenges you had to face?
It was very challenging. I came to an empty hotel with only a skeleton team for a few weeks and I took the initiative to get to know every employee by having them come over to the hotel one by one during the Recovery Movement Control Order (RMCO) every day.
It was also a good time for me to understand the ONYX Hospitality Group (ONYX). Instead of going to Bangkok, Thailand for my corporate orientation, I got to do it hands-on within the building in JB with the immediate people and also, with the aid of their online system, of course. All these made the re-opening of Amari on 15th July a smooth transition.
The hotel industry has badly suffered due to COVID-19 pandemic with bookings being cancelled, and some renowned hotels permanently closing their doors. What are your thoughts on this?
After I left my previous employment in a resort, they closed down for good. Majority of the employees there is the native of the island, and it affected them gravely as their homes were provided by the company as well. Some of them went to do some small businesses, so I think it is essential for me, as fellow hoteliers as well as being a part of the society to support them by consuming their products or services.
We would recover from this situation, and at the time being, we collectively have to remind ourselves to take care of ourselves by following the Standard Operating Procedures (SOPs). At Amari, we stay vigilant and are aware of any complacency that might occur. The SOPs remains strict for the benefit of everyone.
Amari seems to be thriving despite the pandemic. Could you share with us how the hotel has managed to get by this far?
Strategies are my food because I like to analyse things. This time, it's hard to do so since there is no pattern. A significant percentage of Amari Johor Bahru's market comes from Singapore, and with the borders shut, we no longer have that consumer power. We therefore, have to change our direction and our new strategy can't be what we have done before. I'm glad that I have a team that is willing to adapt to a different set of ways to handle the situation.
Based on the new strategy that I applied, it works and is getting better. We need to create more exposure for people to know that we are open with all safety measures as we were shut for the past four months.
How different is it from managing a resort and a hotel in the heart of the city?
It's completely different. In the resort, I was dressed casually to suit the place with short sleeves, and khaki pants and had to walk a lot around the island. Now, in Amari, it is back to where I used to work in cities like the US, Doha and Bangkok. The approach is different and though there was much more leisure on the island, but the business approach is still the same, whether you are in a resort or a hotel. I have to look handsome in my suit if that can be considered different (laughs)!
You have had over 20 years of journey in the hospitality industry, how do you think Amari could stand out among the other hotels in the city?
ONYX Hospitality Group is a great company, about ten years young now, started in Bangkok, Thailand. From my observation, the people that are currently working in the corporate office where strategies and development planning are at were from various hotels like Continental, IHG, Hilton, Four Seasons, Marriott, Westin and etc. All of these brands merged and made up ONYX, and that's how the foundation is solid and rich.
Currently ONYX has over 50 properties worldwide and latest, we opened one in Georgetown, Penang last September. We are looking to open open OZO Medini and Shama Medini in UMCity, located opposite LEGOLAND Malaysia Resort.
Whenever a guest checks in Amari or any ONYX properties, they become the members of ONYX membership. Members then can redeem their free stay in any other ONYX properties.
As an established hotelier, how do you think the hotel industry can recover from this pandemic in the short or long term?
Tourism has received a significant impact from COVID-19 and the situation is grim and it will unfortunately linger longer. People are aware and particular on how a business that provides services could protect them as customers from the virus. However, working in ONYX group, I'm grateful we have ONYX Clean initiatives, collaborating with Ecolab, and we have a video that shows the measures that are taken to ensure the cleanliness of our hotel.
Part of the measures is sealing the rooms after guests check-out for sanitation process. Every inch of the room would be sanitised, including the door handles and remote controls. That was on top of the regular cleaning. Cleanliness and disinfecting is our number one priority right now and moving forward.
You have a penchant for music and arts. Did Amari get a touch of your artsy interest yet?
The best thing about Amari is that we have a music standard. For me, music-wise, we will follow the current standard; morning and evening music are from a different playlist to uplift moods. I'm very particular about this and establish this standard of music to play. The restaurant must have serene, relaxing music and not energetic ones during dinner.
Music can affect moods and even taste, as I've learnt from a documentary. It influences the taste of food, and classical tunes would make you relax, and the dish you had would taste sweet while the noisier ones would give a bitter taste to your tongue hence, the food you are having is less enjoyable.
It's a tricky thing, I don't mind having some bit of extremity, but there are a place and time for that, and I tend to organise and arrange that.
When you're not busy running the hotel, what do you do during your spare time?
If I am not enjoying the sunset at Amari's swimming pool located at Level 8, I would be busy tending to my indoor plant in my office daily. Most of the time, I spend them with my family, my two grown daughters and of course, my wife. As much as I love my job, my family has been the reason for me to keep going when things get tough.