Read Time:
2 Minute, 6 Second
Marrybrown, the Johor born Halal fast-food chain was signaling SOS for their new menu recently and it turns out it was an acronym for "Sensasi, Ohsem, Smokey" which means "Sensational Awesome Smokey" for their latest offering of charcoal bun burger with a huge deep-fried, crispy chicken patty, slathered with sweet, smokey and spicy barbecue sauce that is sure to satisfy every Malaysians' taste buds!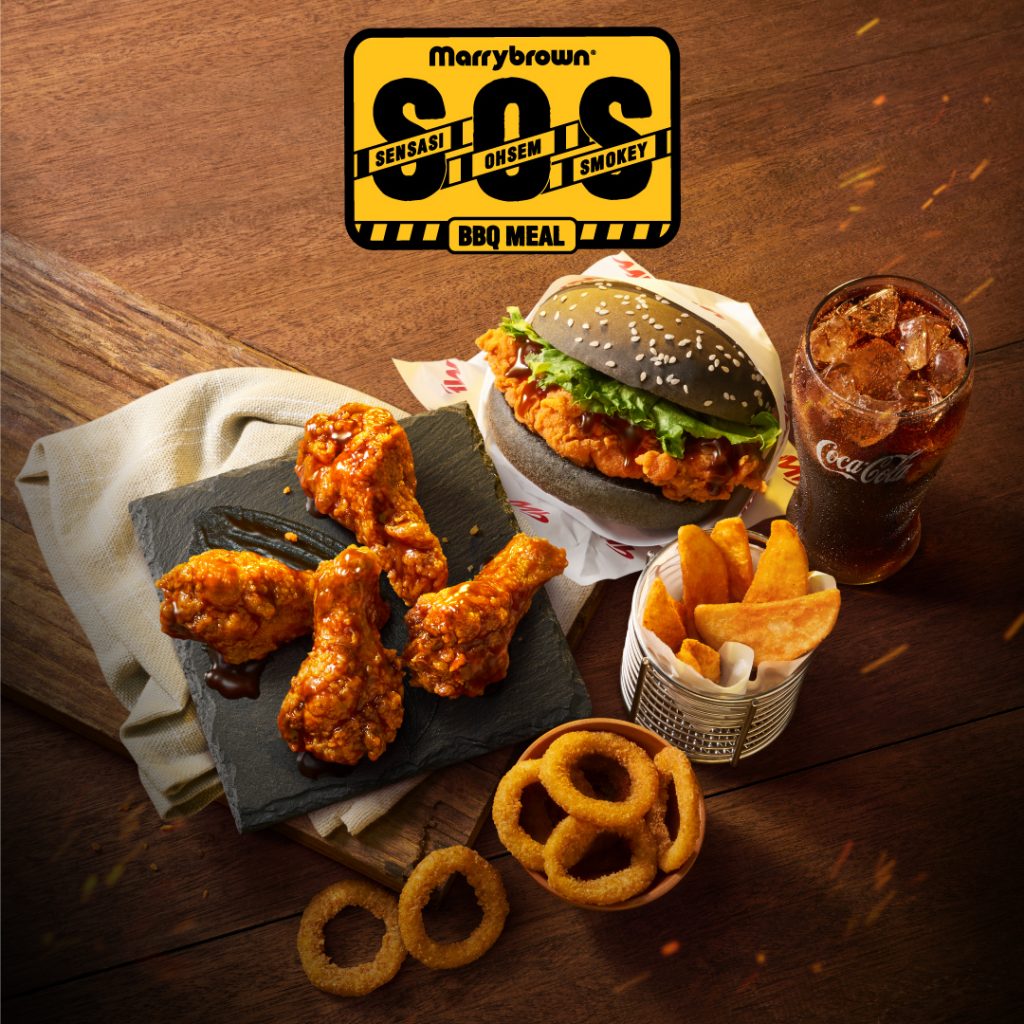 Not wanting to be left out from this experience, Marrybrown Plaza Angsana hosted me and my team to try this sensational offering. This outlet is spacious enough for my wariness of social distancing in this pandemic period and I was glad that all SOPs were in place so that I could eat in peace.
There are three different ways to enjoy this new menu, either the S.O.S BBQ Burger combo meal or the mouth-watering S.O.S BBQ Drumette combo meal. Both are paired with a bunch of soft, hot Potato Wedges and crispy Onion Rings. If you are up to trying everything at once, the S.O.S BBQ Box is the one you would like to pick up. You will get an S.O.S BBQ Burger, S.O.S BBQ Drumettes with the classic MB Crispy Chicken, and Potato Wedges.
All three combo meals are served with a cup of Coca-Cola and priced from RM15.90, RM16.90 to RM22.60 respectively. The portion is pretty huge and knowing very well the locals' love for spicy sauce, Marrybrown restaurant manager, Faisal Sepdi has informed me that customers can always ask for extra sauce upon ordering – both for dine-in and delivery.
The new menu is available from 21st August until 5th October 2020. We enjoyed the meal so much that was bursting with flavours, so hurry and get your set laden with this awesome sauce today at your nearest Marrybrown restaurant!
For more information on Marrybrown, check out their Facebook page, and delivery service via http://mbdelivery.com.my.