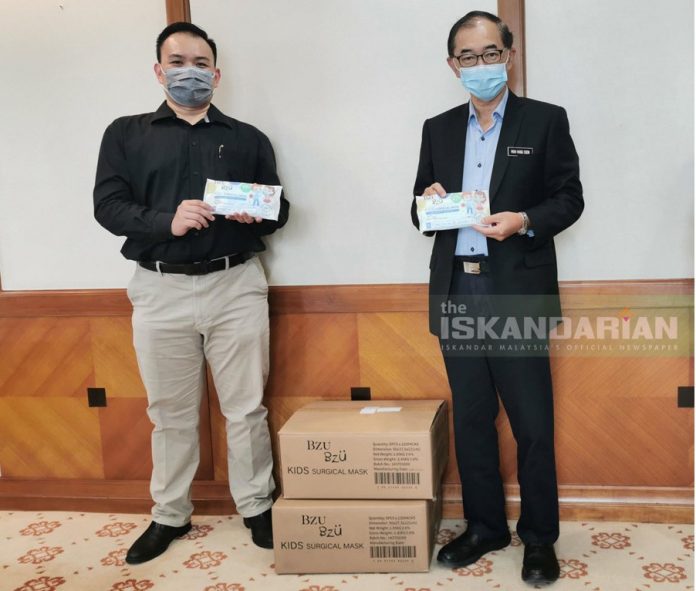 BZU BZU, a family care brand, will be extending a helping hand to the Ministry of Education Malaysia (MOE) in the fight against COVID-19 as schools fully reopen since 22nd July 2020. The brand will be supplying the ministry with over 100,000 masks for distribution valued at over RM150,000 to schools in underprivileged areas to encourage mask-wearing amongst students in school. This partnership came directly through active efforts from Dato Dr Mah Hang Soon, Deputy of Education Minister who personally secured the donation from BZU BZU's management team.
Schools across the country reopened on 24th June which involved all national and international schools with exam-going students. The MOE is doing its best to ensure the safety of the student while encouraging the students to practice social distancing and complying with the set guidelines.
"We would like to extend our gratitude to BZU BZU for their contribution to keeping our students safe as they returned to schools. As we are adapting to the 'new normal', it is important for students to understand the importance of social responsibility while following Standard Operating Procedures (SOPs) set in place by the Ministry of Education. Social distancing and proper sanitation guidelines are being implemented" said Dato Dr Mah.
BZU BZU will be partnering up with the MOE to ensure an equal allocation to selected schools in underserved areas as medical-grade face masks are harder to come by in these communities.
"We hope to encourage mask-wearing as an important precautionary measure to prevent the spread of the virus that causes the disease COVID-19. BZU BZU's kids' medical masks are of medical-grade quality, CE certified, SGS tested with BPE ≥ 99%, PFE ≥ 90%, fluid and splash resistant and suitable for sensitive skin. We are working together with the MOE to make sure that students from lower-income families will also have access to quality face masks," said Raphael Jiang, Chief Executive Officer of BZU BZU Global.
Apart from the distribution of face masks, the MOE will also be looking at various other avenues to better safeguard the students through collaborative efforts with relevant organisations and companies. The MOE is taking precautionary measures to evaluate the guidelines while also urging all parties to be socially responsible, taking into consideration every step needed to improve the "new" school environment.
Keeping in line with their brand ethos "Blissful protection every child deserves", BZU BZU strives to ensure that their products are made of natural & safe ingredients and yet affordable for all families as they believe every child deserves the best. The brand will be rolling out its complete range of sulfate-free, paraben-free, alcohol-free, artificial toxins-free and dermatologist-tested products to stores nationwide soon and hope to set a footprint in the region as a leading family care brand.