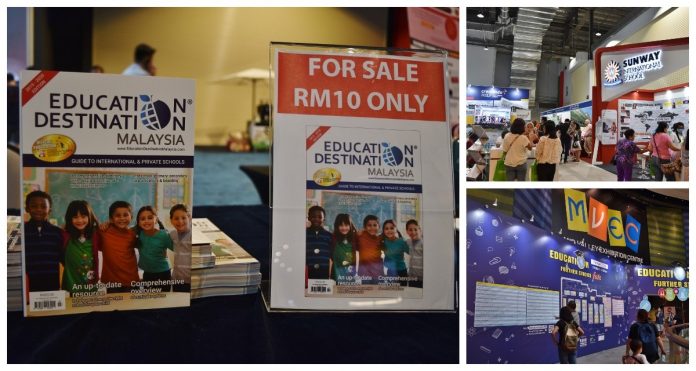 Johor has about 19 international schools offering various curricula– American, British, Cambridge, International Baccalaureate and Singapore syllabus – which are mostly located in the capital city of Johor Bahru and the Iskandar Malaysia region. Parents seeking diversity and options for their children's education know that research and financial planning are crucial to make the best school choice. It is these choices that carve the pathway towards their children's future.
The Organiser, Mint Communications Sdn Bhd, held its 10th Private and International School Fair at Mid Valley Exhibition Centre, Southkey Johor Bahru, on 7 & 8 March 2020. According to co-founder and director of Mint Communications, Nickie Yew, "This is the first time the fair was held in an exhibition centre and I am happy to report that it was a success."
Exhibitors include Crescendo-HELP International School, Repton Malaysia, Fairview International School, MindChamps Preschool, Paragon Educare Paragon Private and International School, R.E.A.L Education Group, Raffles American School, Reddot Education, Shattuck-St. Mary's Forest City International School, Sunway International School, Sunway Iskandar and Tenby Schools Setia Eco Gardens. International schools in nearby states such as Idrissi International School, International Islamic School Malaysia (IISM) and Kolej Tuanku Ja'afar were also present at the fair.
The 2019/2020 edition of Education Destination Malaysia, published annually by Mint Communications, was also sold at a discounted price of RM10. The book contains comprehensive guide on international schools, including useful articles, infographics, and comparative charts, along with updated maps and directories of the schools.
Attracting a crowd of over 2,000 at the two-day event, Mint Communications also took extra precautions by scanning the body temperature of each visitor that walked into the exhibition, playing their part in taking the necessary steps to curb the COVID-19 disease. Hand sanitisers were made available as well.
The next fair in Johor will be held on 3rd October 2020 at Hotel Jen Puteri Harbour, Iskandar Puteri from 11am to 4pm. For information on the fair, please visit www.pisf.asia