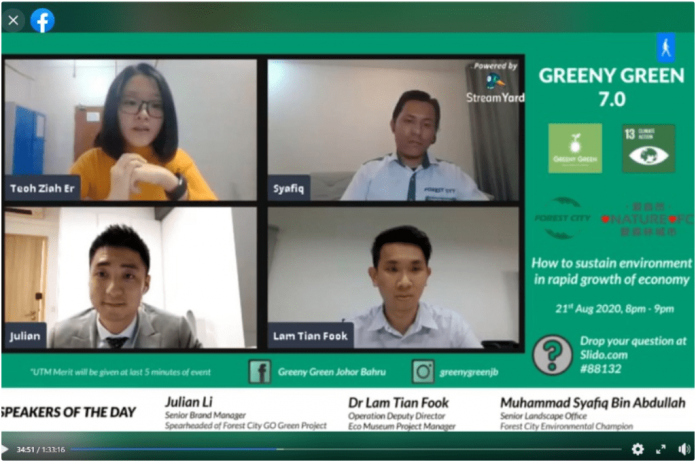 Project Greeny Green Webinar 1.0 online discussion forum saw Forest City join hands with AIESEC Johor Bahru to discuss how to sustain the environment amid rapid economic growth.
On the management perspective, Vice General Manager, Forest City, Ir. Hj. Syarul Izam said, "During the development of Forest City, we have always been exploring our way forward on how to establish a comprehensive urban development and management without compromising the environment. With that, the management collectively agreed to impose more stringent environmental assessment parameters during planning, design and construction. These measures will lay a solid foundation for sustainable development of Forest City."
In the forum, Forest City representatives Dr. Lam Tian Fook, Deputy Director of Operations, accompanied by Julian Li, Senior Brand Manager and Senior Landscape Officer, Muhammad Syafiq bin Abdullah, shared Forest City's environmental achievement from different perspectives amid the rapid development.  Julian shared how he started the "FC GO GREEN" programme in November last year, and eight environmental protection activities has been carried out to-date. The initial idea was solely promoting environmental awareness among the employees; however, it has now become an iconic programme of Forest City with more and more volunteers coming onboard. And this is the first time the program is outreaching to the youth in the local universities.
Syafiq, on the other hand, shared his interesting stories in his seagrass and mangrove conservation works. Lam introduced the upcoming Eco Museum to the audience, giving an insight on the design concept, and future plans of the museum. During the event, AIESEC and Forest City also launched a joint proposal, urging everyone to start from little things, and make a contribution towards the environmental causes.
Environmental issues are a global problem. Recognizing the importance of environmental sustainability to humans and all living things on earth, Forest City aims to engage more actively by joining a joint effort with a non-governmental organization known as AIESEC.
Aiming to foster environmental awareness among the youths in Malaysia, Greeny Green, an environmental protection volunteer project organised by AIESEC in collaboration with Forest City, works together to train youths to be more capable in taking action on environmental issues and giving a greater impact. The objective is to share knowledge, give exposure to participants, raise awareness on how to protect the environment through simple actions such as reducing the use of plastic straws, planting trees, using their own shopping bags and carrying their own containers when buying food for take away.
Since its launch, Forest City has implemented a number of eco-friendly actions such as waste segregation by category, enforcement of compliance with environmental construction guidelines (SOP) covering water quality monitoring, and sedimentation as well as the use of Industrial Construction System (IBS) technology. The concept of sponge city will also be introduced where rainwater and wastewater will be recycled for reuse purposes. Several other initiatives will be introduced from time to time.
Syarul Izam said, "The environment has a big impact on human life, especially in terms of health, including quality of life. As the city developer and operator, we are committed to develop the value and quality of the city, and we focused on the synergy of city, architecture, landscape and art to create a green and environmentally friendly city image. We urge all organisations and individuals to join hands fighting together on environmental issues. Together we will make a difference towards a better environment, and achieve a sustainable development."