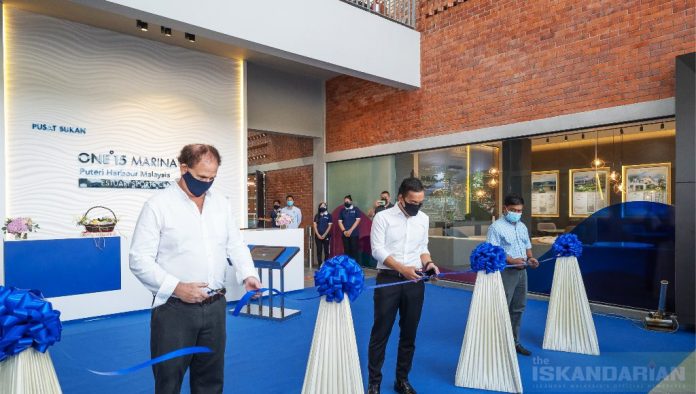 SUTL Enterprise Limited (SUTL Enterprise), a leading marina  developer, operator,  consultant  and  owner  of the premier ONE°15 marina brand,  announced the official launch of ONE°15 Estuari Sports Centre (Centre) in the Iskandar Puteri, Johor residential zone at an opening ceremony  graced by guest-of-honour Johor Tourism, Youth and Sports Committee chairman, Datuk Onn Hafiz Bin Ghazi, followed by a VIP tour of the premises  led by Brian Werner, General Manager of ONE°15 Estuari Sports Centre and ONE°15 Marina Puteri Harbour, Johor.
Located just 5-10 minutes' drive away from the development site of the Group's upcoming marina club ONE˚15 Marina Puteri Harbour, Malaysia, the sprawling 13,000m2   integrated sports complex features five indoor/outdoor tennis courts, five badminton courts and two squash courts, a 50-metre Olympic-sized pool compliant with FINA standards, yoga/aerobic/zumba/spinning studios, a pool café, a martial arts studio, a rock-climbing wall, and more. SUTL Enterprise intends to leverage these state-of-the-art facilities as a platform to promote active lifestyle programmes, while also building the venue's reputation as a world- class sports hub and training centre.
The sports centre's management also regularly ensures  that  the  premises  and equipment are thoroughly  cleaned  and disinfected  multiple times a day with sdpro, a US EPA-approved self-disinfecting coating distributed regionally by SUTL EnvironTech, a wholly-owned subsidiary of parent  company SUTL Global.
As a world-class sporting venue in Johor with the potential to host national and international sporting events in a post-COVID world, the Centre is well equipped to stage regular activities and special events that include team-building activities, birthday parties and private group sporting workshops.  It will also offer an outstanding range of sports academies and training   programmes for individuals across all age groups and learning stages.
SUTL Enterprise Executive Director and  CEO, Arthur Tay, said, "The launch of ONE°15 Estuari Sports Centre is a milestone  that is in line with the Group's vision to create  a lifestyle sporting hub and enhance  vibrancy and energy in the community. We also hope to promote the joys of yachting and other sporting-related events for families, friends and business people alike. More  importantly  it serves  as  a  prelude  to  the  much-anticipated opening  of ONE˚15  Marina  Puteri  Harbour,  Malaysia,  where  construction  works  will re-commence  in 1QFY2021 following unforeseen, temporary disruptions  as a result  of border controls between Malaysia and Singapore due to COVID-19. Upon the clubhouse's completion in 2023, members will be able to enjoy the benefits of dual membership perks that grant them access  to  the  facilities at both  ONE˚15 Marina Puteri  Harbour  and  ONE°15 Estuari  Sports Centre."