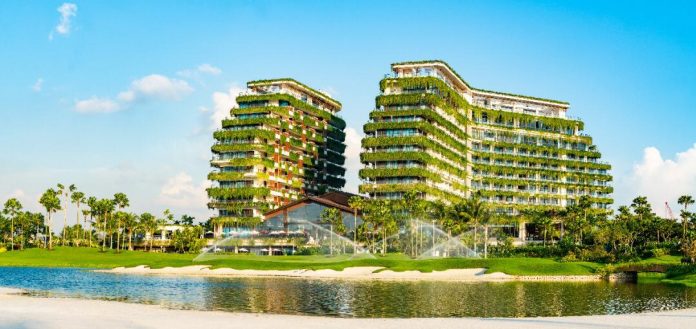 Environmental issues are a global problem. Recognising the importance of environmental sustainability to humans and all living things on earth, Forest City aims to engage more actively by joining a joint effort with a non-governmental organisation known as AIESEC.
Forest City Environmental Protection
Forest City enthusiastically calls on the residents and employees to participate in green environmental actions. "No matter which country you come from, and what kind of beliefs you have, we hope to work with you to contribute to the environmental causes. With your effort, we can make mountains greener, cleaner water, plants more luxuriant, and animals more abundant", says the developer in a statement. We can take actions by:
Reducing the use of plastic straws. When possible, try to use a cup for drinking. If a straw is really needed, choose a reusable one.
Planting trees. FC Go Green will organise tree planning events soon, please participate and raise environmental awareness.
Using recyclable bags instead of plastic bags for shopping.
Bring your own utensils for food take-away.
Saving water by turning off the water tap tightly after usage.
Saving electricity by turning off all lights and air conditioners when leaving the office.
Saving food by taking only what is needed and avoid wastage.
Saving paper by printing only when necessary, and choosing double-sided printing.
Behaving in a civilised manner outside. Don't spit or litter anywhere.
Making friends with animals, co-living with them in a harmony.
Minimising noise nuisance in a public place.
Promoting environmental protection messages via social media.
No act of kindness, no matter how small, is ever wasted. Let us start from the small things around us, together, we will make a difference towards a better environment, and achieve a sustainable development.
Forest City was developed in collaboration with Country Garden and a subsidiary of Johor government, Esplanade Danga 88 Sdn Bhd (EDSB). Located in a strategic location in the rapidly expanding Iskandar Malaysia Development Region, injects another source of economic growth in ASEAN. Covering an area of about 30 Kilometers, it covers four artificial islands, resorts and IBS industrial parks. Forest City focuses on the sustainable development of 8 industries, namely Tourism & MICE, Healthcare, Education & Training, Regional Headquarters, Coastal Finance, E-commerce, New Technology Development and Green and Smart Technology. Forest City is a smart and green futuristic city that combines environmental design, industrial integration and advanced technology in creating an ideal ecosystem of living and workplaces, technology-driven, and a key city model for the future.