With no near end to COVID-19 pandemic and people anxious to get back to their families, some of the airlines abroad have already stepped up to bring people home safely. Locally, AirAsia has recently resumed its normal flights and this also included recovery flights to bring people home.
As passengers wellbeing are taken care off with required temperature screenings and so on, the crew's health is also paramount as they take care of passengers' needs on board. With this in mind, AirAsia introduced new personal protective equipment (PPE) COVID-19 uniforms for its cabin crews. The uniforms are complete with matching medical face masks, plastic visors, and disposable gloves. The outfit reminds you of what the Formula One race car drivers wear.
Airline spokesperson Malik Ridhwan Zaihan said in a statement to CTVNews.ca that AirAsia Philippines initiated a trial run of the customised PPE uniform during a recent recovery flight and further assessment of the design is underway.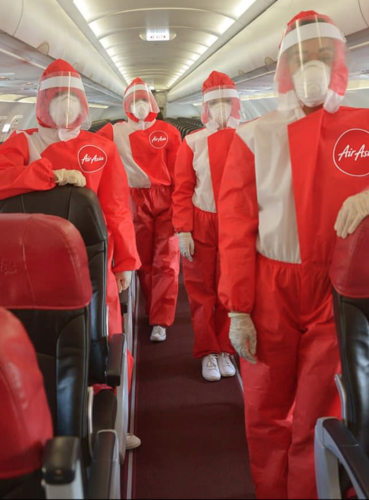 Meanwhile, AirAsia Group CEO Tony Fernandes clarified via his Instagram account that the new uniforms will only be used for rescue flights and not during their normal flights.
AirAsia flights have already resumed its flights in Malaysia with its other operations in Thailand, India, Indonesia, and the Philippines to follow suit subject to approval from the authorities.