Bringing authentic taste of Indian cuisine to your table
It was a hot day out and although there is still time for Deepavali, I was already feeling festive and it got me thinking of delicious savoury Indian food and I was looking forward to my meal at Vanakam India in Eko Botanik that serves authentic North and South Indian food.
The pristine white facade already cooled me as I set my eyes on it and once inside, I was served 'Vasantha Neer', a coconut mocktail that is refreshing and popular as a welcoming drink in India. The drink has coconut bits too making it more enjoyable.
They open at 11am, just perfect for an early lunch or dare I say, for a festive "brunch". Leafing through their menu, there is so much to choose from and at very affordable prices too, ranging from RM4 to RM24 per dish. As I dined in a group, we decided to go all out and had Vanakam's Signature Crab Masala which was rich in flavours and heavily drenched with spices but I quickly calmed my senses with crowd's favourite 'Bindi Kur Kur' – Tender and crunchy ladies fingers and Paneer Tikka (soft grilled cottage cheese) which are also great as appetisers. On to the mains and top on the list were Chicken Biryani and Prawn Biryani. Each biryani set comes with a curry and raita and was really aromatic.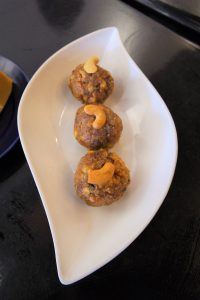 The next course that followed is just my affair with Chicken Butter Masala, Malabar Fish Curry, Butter Garlic Prawns and Lamb Rogan Josh. Ranging from Mutton meatballs to kebabs and down to Tandoori and Chicken Tikka it was all a match made in heaven in my mouth and tummy! Being comforted that the dishes are cooked with nil MSG and colouring, I could eat all of them in one go. I do admit that some dishes are spicier than the other but once paired with my plate of biryani, everything tasted just right.
If rice is too much for you, an order of their cheese or garlic naan with curries or even tandoori chicken paired with fresh mint sauce is also equally amazing.
As Deepavali is around the corner, my early festive mood was complete when I was served with Indian sweets such as Ladoo and Barfi; Vanakam India's special promotion for the festive season as well as Gulab Jamun. They tasted so good and the word authentic is such an understatement as it was absolutely marvelous! But do remember to ask for a scoop of ice cream which goes really well with the Gulab Jamuns.
The restaurant is taking catering orders for Deepavali and will be open for its full hours and days too.
Vanakam India is open every day from 11am to 10.30pm, taking their final order at 10pm so be sure to come early and have a taste of authentic Indian cuisine today at No 39, Jalan Eko Botanik ¾, Taman Eko Botanik. Any bookings or catering order could be made by getting in touch with them via their Facebook page @vanakamindiajb and call at 07-585 7543.