Take the family or spend a romantic staycation with your loved one
Checking in at Le Grandeur Palm Resort in Senai, Johor is a breeze just like the earthly breezes you get when chilling in your room by the pool or watching a bunch of businessmen hit it on with a game of golf – yup pool-view or course-view, take your pick with the rooms at Le Grandeur. I arrived just within the lunch hour which normally lasts till 2.30pm at the Ishwara Asian Brasserie & Terrace – one of the several F&B outlets here at the resort.
The Ishwara is normally open from 6.30am to 10.30am and 12pm to 2.30pm daily serving continental with a mix of local flavours for breakfast and themed lunches depending on the season. I got to try out the authentic tastes and flavours of the Citarasa 14 Lunch Buffet which featured the cuisine of the 14 different states in Malaysia. At the back of my head I was thinking, "There goes my diet!"
I have not really settled down after checking in as I arrived slightly off-schedule, and had to rush to put my things in the room and grab lunch. So while waiting for my digestive juices to take action before I take my next action on the itinerary, I went back to my pre-cooled room – yes I'm one of those people who leaves the air-conditioner on when I leave my room, but for good reason and not for long, I admit. Anyway, I did a little bit of unpacking and while perusing the refurbished room, I noticed that the hotel had prepared a jar of cookies meant as a welcome treat for me just like the welcome drink I got at the reception. Hospitality definitely goes a long way with sweetness I have to say.
Another thing that caught my eye was this interesting gadget that looked like a phone being perpetually charged on a dock. It was a Handy mobile phone with a brochure which said, "Take me out, I am your free travel buddy." I was quite surprised and amazed at this. Not having to worry about roaming charges or getting lost, and free to use during my stay. Wow! After the brief marveling moment, I quickly freshened up to take my hotel tour, without Handy of course as I had my day planned.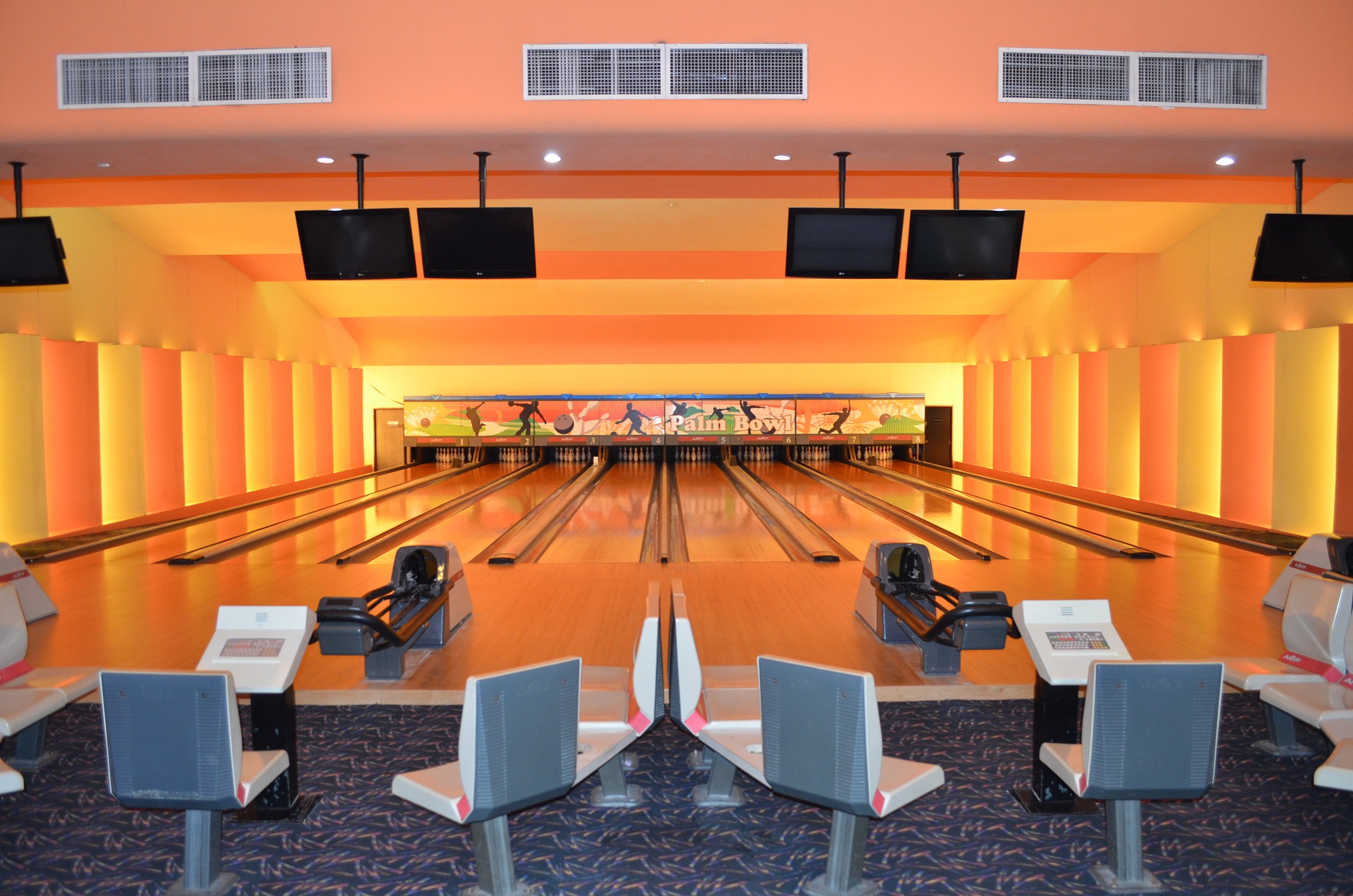 I had a chance to partly tour around the extensive golf course the resort has which also includes 3 x 18 hole golf courses (Allamanda, Melati, and Cempaka – named after Malaysian flowers). Interestingly enough, there was a golf tournament happening on that day so I also got to spectate a few clubs swinging. Golf Manager, Majid who has been working at the Palm Resort Golf course pointed out to me a few of his favourite areas on the course and which were some of the signature holes with beautiful views and landscaping.
I continued my traverse through the itinerary to the next building located near the golf clubhouse which was the Sports & Leisure Club. I was surprised at the various amenities available there. The Olympic size swimming pool looked like an oasis in the dessert for me because of the humid day. Besides that, there was also a few snooker and pool tables available, as well as fusball. What intrigued me the most was bowling! There was an eight lane bowling alley at the club. Just like the blip effect when you get during time travel, I had that same feeling of euphoria when I realised that I had a good sweat and a few points up on the scoreboard after three frames of one of my favourite games!
To be continued…