Mah Sing Group Berhad (Mah Sing) reported a 193% increase in profit before tax for the second quarter ended 30th June 2021, compared to RM19.8 million in the previous corresponding quarter. The Group's revenue climbed by 47% to RM438.7 million in the quarter under review, compared to RM298.6 million in the previous quarter.
For the first eight months of 2021, Mah Sing has successfully registered new property sales of roughly RM1.06 billion, with property sales for the first half of 2021 nearly doubling to RM800.9 million, compared to RM418.6 million in the same period last year.
Mah Sing's Founder and Group Managing Director, Tan Sri Dato' Sri Leong Hoy Kum said, "Our continuous efforts in adopting digital marketing campaigns in the first half of the year have panned out well and put us on track to meet our RM1.6billion sales target this year. In line with the extension of the Home Ownership Campaign until 31st December 2021, and the low-interest rate environment which is beneficial to the property market, we have also launched the "Mah Sing NOW" campaign as part of our efforts in driving sales in the second half of the year."
Tan Sri Dato' Sri Leong Hoy Kum said after acquiring two new lands to be launched in Q4 2021, they are eyeing more land as part of the strategy for continuous growth, with Greater Kuala Lumpur, Klang Valley, Johor and Penang being the focus areas.
Towards a Fully Vaccinated Workforce
Tan Sri Dato' Sri Leong added that Mah Sing's high vaccination rate and conscientious SOPs have allowed it to continue construction progress. Close to 100% of its employees across all business units in property, healthcare and plastics have received the 1st dose of COVID-19. Approximately 80% have completed the 2nd dose. "We hope that the pace of vaccination programmes continues its momentum so that we can all focus towards revitalising the economy."
Healthy Balance Sheet and Earnings Visibility
The Group has a remaining landbank of 2,045 acres with a remaining gross development value and unbilled sales totalling approximately RM24.45billion. Mah Sing also continues to maintain a healthy balance sheet with cash and bank balances and investment in short-term funds of approximately RM807.5million as of 30th June 2021.
1H2021 Results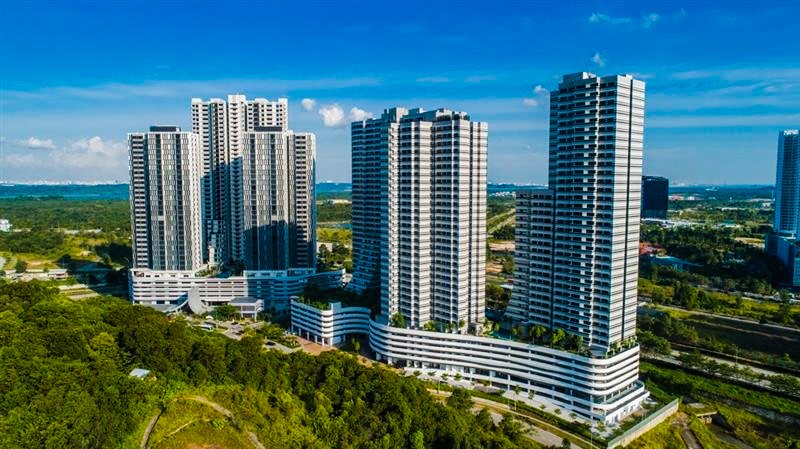 The Group's profit before tax rose 86% to RM114.2million from RM61.4million, while revenue rose to RM852m from RM669.8m. The property segment recorded an operating profit of RM123.6m on the back of revenue of RM652m.
The Group recorded revenue of RM177.9million and an operating profit of RM12million in the first six months of this year. The increase in revenue and profit was mainly contributed by higher pallet sales. The development projects which mainly contributed to the Group's results include M Vertica, M Centura and Meridin East in Johor.
Mah Sing Nearly Doubles Property Sales for 1H2021, on course to achieve 2021 sales target of 1.6billion, leverage on new sales campaign – "Mah Sing NOW" and new launches besides doubling their sales from RM418.6million to RM800.9million for the first half of 2021, Mah Sing has locked in approximately RM1.06billion for the first 8 months of 2021.
The Group is confident it will be on track to achieve the RM1.6 billion sales target for the year and will leverage on its new "Mah Sing NOW" campaign. This sales campaign is a three-pronged approach for buyers who wish to own residential and/or commercial properties.
The Group is cautiously optimistic that its property projects will continue to attract buyer interest mainly due to their strategic locations, affordable price points with attractive packages, innovative design and layout.
Looking ahead, Mah Sing's other planned new launches for the remainder of 2021 include double-storey link homes in Meridin East, Johor Bahru.
Mah Sing Healthcare on Right Track to Supply Premium Quality Gloves to Customers
Mah Sing Healthcare Sdn Bhd (Mah Sing Healthcare) business unit has made steady progress in the commercialisation of its glove manufacturing business. The glove manufacturing factory in Kapar, Klang commenced operations in May. Mah Sing Healthcare's 12 high-speed production lines under Phase 1 have an annual production capacity of up to 3.68 billion pieces of gloves once fully completed with international accreditation.
Mah Sing's Group Chief Executive Officer Datuk Ho Hon Sang said it will be able to serve the export markets such as the United States, Canada, Europe, UK, Japan, China, Korea, Singapore, amongst others.
"In addition, we hope to strengthen our comprehensive environmental, social and governance (ESG) initiatives with strict SOPs in our future-oriented factory to produce high-quality gloves which meet international standards. We believe 2021 would be an exciting year for us as we show our commitment to be a long-term player in the glove business and continue to grow our network globally. We are also more than ready to receive more orders as we have the capacity to cater to the global glove demand in the near future," Datuk Ho added.