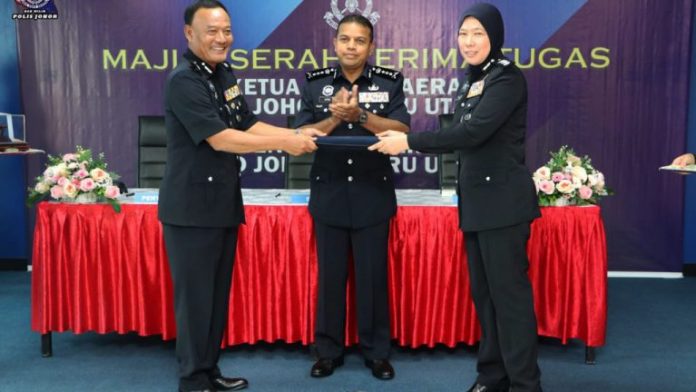 Johor police has appointed its first ever female Officer in-Charge Police District (OCPD) in history. ACP Rupeah Abd Wahid has also been of service as a police escort to Her Majesty Johor Permaisuri Raja Zarith Sofiah Almarhum Sultan Idris Shah. Rupeah, 57, from Batu Pahat, Johor would head the Johor Bahru North district upon appointment.
Johor police chief, Datuk Ayob Khan Mydin Pitchay in his statement said that he believes Rupeah would be capable in carrying out her duties with years of experience she has on hand.
"Many directors of intelligence agencies are women and the advantage of these women is that they are diligent," he said, citing women in high positions in foreign intelligence agencies like the United States' Central Intelligence Agency (CIA) after acting as the witness to the handing over of duties ceremony between ACP Mohd Taib Ahmad and ACP Rupeah Abd Wahid at the Johor Bahru Utara district police headquarters.
Rupeah told the media after the ceremony that her focus as the new OCPD would be ensuring the safety among the Johor Bahru people.
"At the same time, I will obey and be loyal to the Johor police chief and follow every instruction given," said Rupeah, who has been serving with the Royal Malaysia Police for 39 years.
The appointment of ACP Rupeah is consistent with Johor police's appointment of their first female deputy chief, Datuk Aishah Mohammad in 2015. Aishah has served the police force for over 40 years prior to her retirement in 2016.
Meanwhile, the Johor Police Chief at the same event has announced that the Johor police force will investigate the claims made by the National Anti-Drug Agency (AADK) on the 177 secondary school students that were involved in drug abuse in the state.
The investigation is geared towards tracking down the drug dealers that has supplied to the minors.