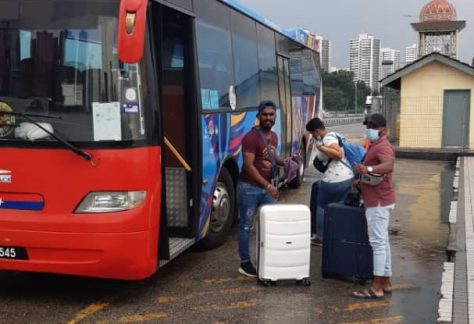 As the borders between Singapore and Johor Bahru partially resumed, the Johor Public Transport Corporation (PAJ) has started to provide free bus shuttle service since 20th of August 2020 under the Reciprocal Green Lane (RGL) and Periodic Commuting Arrangement (PCA) schemes.
According to State Public Works, Transportation and Infrastructure Committee chairman Mohd Solihan Badri, the buses are allowed to pick up and drop off passengers at the Woodlands checkpoint in Singapore but it is necessary for the buses to make a U-turn at the ICA in Woodlands.
Reports shows that as there are no public transport or shuttle buses plying the 1km-long Causeway, those without their own private vehicles has to travel on foot with some seen carrying large pieces of luggage.
The PCA allows Singapore and Malaysia citizens or permanent residents who hold long-term immigration passes for business and work purposes in the other country to enter that country for work. Meanwhile, the RGL is for Malaysia and Singapore residents keen to do shorter-term travel of up to 14 days, for essential business and official purposes.
In a statement, PAJ said that the free hourly bus services will be available from 7.30am to 6.30pm daily, and commuters are advised to comply with standard operating procedures set by Malaysia's Ministry of Health when using the services.
Since the partial reopening, traffic has been smooth across both the causeways.