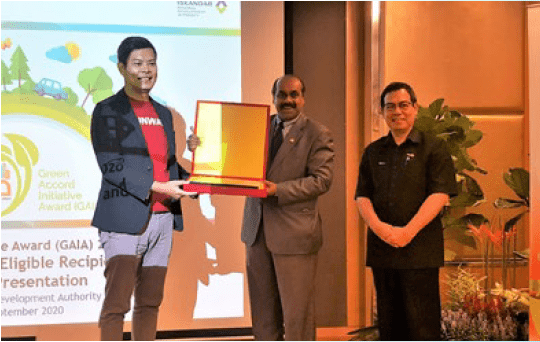 Iskandar Malaysia heightened its low carbon agenda with recognition of Green Accord Initiative Award (GAIA) 2019/2020 to five more buildings in the region. The award ceremony was officiated by Chairman of Johor State Health and Environment Committee, Vidyananthan Ramanadhan. The highest awards were given to Menara Majlis Bandaraya Johor Bahru (MBJB) at Bukit Senyum and Sunway Big Box Retail Park, as the greenest buildings under the respective of Individual Property and Commercial categories for the 2019/2020 GAIA awards.
Three other Special Mention recipients in the GAIA Individual Property and Commercial categories are Fairway Suites, Horizon Hills; Majlis Perbandaran Kulai and i-Stay @ Senai Airport City, a hostel facility with green features to cater to outstation and foreign workers.
GAIA has awarded a total of six prestigious awards and nine special mention awards, recognising a total of 15 green buildings since 2016.
Commercial category's winner, Sunway Big Box Retail Park was officially opened in the last quarter of 2019 and is highly equipped with green features like large-scale solar panels (3MV) on rooftops to supply affordable and clean energy to the park which resulted to lower rental rates to retailers that allows them to offer lower price to consumers. Allan Tay, Assistant General Manager of Sunway Iskandar said, this is a part of Sunway Group's efforts towards achieving the Sustainable Development Goals (SDGs).
Special Mention's recipient i-Stay @ Senai Airport City, a subsidiary of AME Elite Consortium Berhad, Operation Director, Pu Wah Jian said one of their green effort is enforcing paperless method to inform the hostel's residents by using social media instead of the widely-used information board in their facility. He said they would cut waste further by providing reusable cutleries and food containers for them to pack food to and from home.