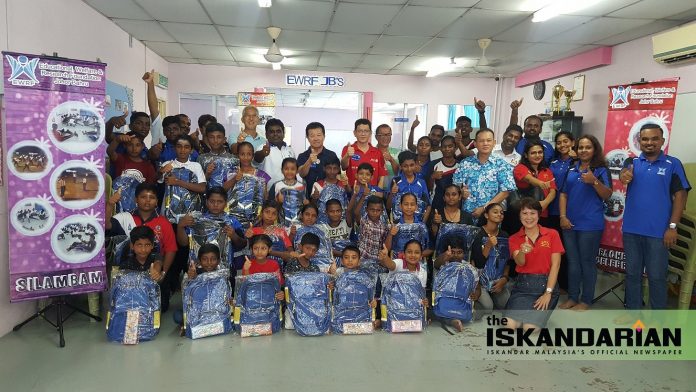 Educational, Welfare & Research Foundation (EWRF) Johor Bahru had collaborated with Rotary Centennial Johor Bahru (RCJB) to provide school packs for 30 primary and secondary school students at its Kulai Edu Centre. This also marks RCJB's first supply of school packs for underprivileged children this year and to honour this, Rotary District 3310 Governor which covers 69 Rotary clubs, Jeff Yong, was also present to hand over the aid himself.
K.Raam Kumar, Chairman of EWRF Johor Bahru said, "Kulai Edu Centre was opened in February 2014, and since then it has helped students to further their studies in local tertiary institutions like University Malaysia Pahang and vocational college, Industrial Training Institute (ILP).
The centre helps the children of the B40 group to develop self-confidence with not only academic but also non-academic training that nurture skills such as computer training, stage play and martial arts like Silambam. Their silambam team has even won international competition to add in the success of the centre.
The centre currently has 56 students, and the 30 recipients selected mostly reside at the government housing programme flats; PPR Temenggong, which is within a walking distance to the centre. Raam said they also train the parents who make up 90% of the administration at the centre to help them gain visibility in society by providing them the skills they need to earn a better job.
Raam with his team are in the quest to guide other welfare NGOs to help build space for underprivileged children and empower more families in Johor to earn a better living. EWRF is a recipient of the Iskandar Malaysia Social Hero Awards (IMSHA) in 2018 for the Human Empowerment category.