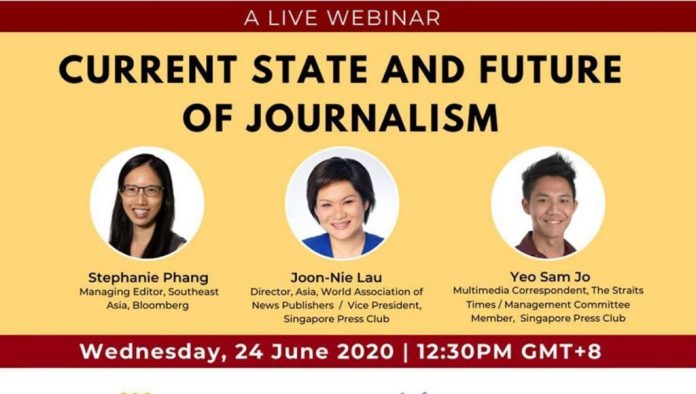 As COVID-19 pandemic forced the world to enter a new normal for almost half a year now, the media around the world too has adjusted and adapted to changes. Telum Media, an entrepreneurial and PR technology company together with Singapore Press Club hosted a webinar on 24th June 2020 to discuss the 'Current State and Future of Journalism' with media practitioners accessing from different parts of Southeast Asia.
The webinar hosted panel guest speakers Stephanie Phang, Managing Editor, Southeast Asia, Bloomberg, Joon-Nie Lau, Director of World Association of News Publishers, Asian Region, Vice President of Singapore Press Club and Yeo Sam Jo, Multimedia Correspondent at The Straits Times and Management Committee Member of Singapore Press Club. The session ran for over an hour with almost 70 questions collected from the participants.
Stephanie shared that the newsroom at Bloomberg has always practised working remotely from all around the corners of the world and believes that it is a normal practice among media practitioners even before the COVID-19 pandemic hit.
Joon-Nie Lau then further explained how the newsroom always needed visuals to broadcast it. She cited her experience since the days of Singapore Broadcasting Corporation (SBC), technology has advanced and communicating data gets easier.
Seeing how the world could be forced to change overnight without warning, Yeo explained the need to have young journalists to be aware of new technology and stay closer to the communities and youth culture in order to keep up with how the world is evolving.
Among the issues that were discussed in the one hour discourse is the classic debate of print versus digital media among participants in the chat section, and even the challenges of media in the new normal that includes having media consumers pay for subscription of news and brands pulling out from advertising in mass media.