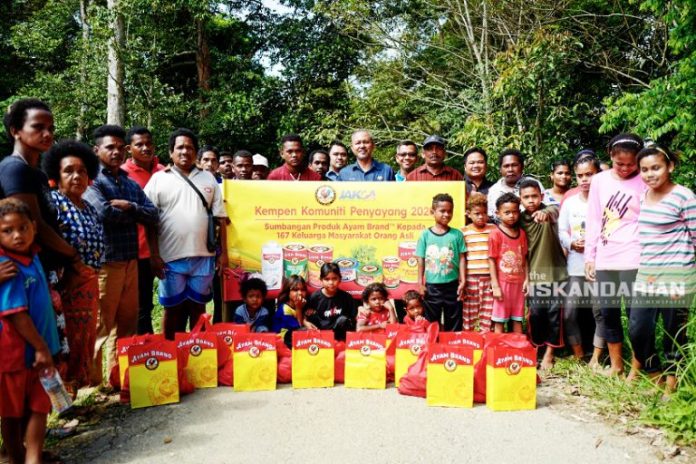 Ayam Brand in cooperation with the Department of Orang Asli Development (JAKOA) is introducing the #AyamWithYou community care campaign to Orang Asli communities in Johor, Pahang, Perak and Selangor.
The #AyamWithYou community pantry is now self-sustaining in 13 locations nationwide with communities coming together to give and take daily essentials such as food, and helping those in need supported by product contributions from Ayam Brand, Mission Foods and Alce Nero.
The community care campaign is being rolled out at Kampung Kangkar Senanga (Johor), Kampung Orang Asli Teluk Gunung (Pahang), Kampung Orang Asli Tibang (Perak) and Kampung Orang Asli Changkat Bintang (Selangor) with one month's supply of Ayam Brand and Alce Nero products being contributed to a total of 167 Orang Asli families from these communities.
The Director General of JAKOA, Prof Dr Juli Edo said that the #AyamWithYou campaign was needful for its tangible and psychological support of Orang Asli communities through the contribution of food essentials during these challenging times.
As the communities are deep in the interior, JAKOA will take on the logistics support, and coordinate with the Tok Batin to distribute a box of 27 products to heads of households in each community, while ensuring that social distancing is practised.
"These communities are hard hit economically, and the contribution of food items with longer shelf lives is a vital lifeline. We hope more organisations join the #AyamWithYou campaign, or initiate their own charitable giving," said Prof Dr Juli.
Through its long-running CSR programmes, Ayam Brand has contributed more than 2 million healthy meals for charity, providing nutritious food to more than 21,800 people from 524 charity organisations and NGOs over the past 13 years.
"We have reached out to different communities, especially those in need through the community care campaign, and are glad to work with JAKOA to support Orang Asli communities," says Ayam Brand Malaysia's Marketing Manager, Teoh Wei Ling.
Find out more about the #AyamWithYou community care campaign by visiting https://www.ayambrand.com.my.