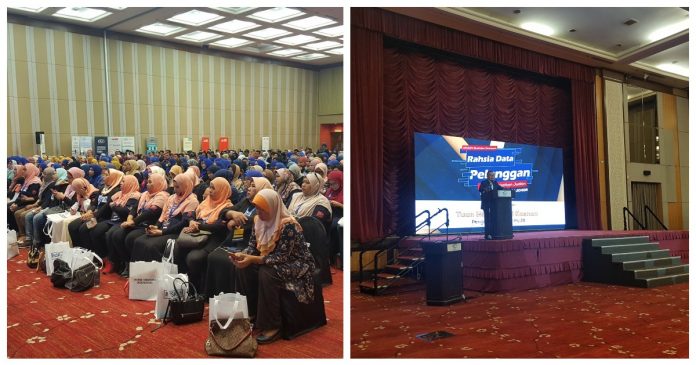 The Ministry of Entrepreneur Development and Cooperatives (MEDAC) through its agency, National Entrepreneurship Institute Public Limited (INSKEN) has organised a series of tours namely INSKEN Business Outreach (IBO) and made its fourth stop at Persada Johor International Convention Centre.
Tuan Haji Ashari Bin Kasnan, CEO of Johor Entrepreneur Corporation (PUJB) were present to officiate the one-day seminar that convened 450 participants from all ten districts of Johor with some of them coming from different states as well.
Primary topic for the one day seminar was on awareness and guidance on the Industry Revolution 4.0 (IR 4.0) that aligns with the nation's objective to make Malaysia an IR 4.0 hub in Southeast Asia. The topic incorporated the subject of "Increasing Sales through Database Management" to help entrepreneurs use it as a tool to learn on methods to seek, manage and grow their sales through customers' database.
The stop in Johor was a collaboration between Johor State Economic Planning Division (BPEN) and Amanah Ikhtiar Malaysia (AIM).
Other programmes included in the seminar was Psychometric Test (MyNept), Mind Setting by Fahdi Ghazali, Ask the Expert, and tax calculating lesson with addition of Biz Clinic for participants to have some business consultation from INSKEN's very own team known as Biscounselor. The team also held an interview session to look for more people to join as Biscounselors.
IBO 2020 is looking to train 3,500 entrepreneurs from its roadshow that will extend to another 4 locations in Kedah, Sabah, Terengganu and Kelantan. The first 3 states that they have toured have accumulated around 1,286 entrepreneurs and the addition of 450 from Johor Bahru will make it reach closer to its target.
For more information on the IBO programme and registration, logon to INSKEN at www.insken.gov.my.