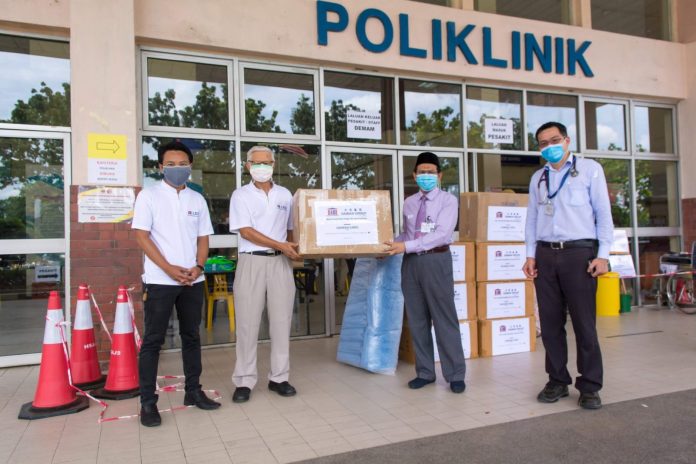 Despite the volatile circumstances currently faced by the property market, Johor-based Daiman Group contributed 2,000 N95 Face Masks and 300 sets of PPE, comprising disposable coveralls and safety goggles to medical front-liners at Hospital Sultanah Aminah and Hospital Sultan Ismail. The initiative is a Daiman Cares Corporate Social Responsibility (CSR) effort, in response to the public donation plea by the Johor Doctors' Association to battle the COVID-19 pandemic. The protective equipment will supplement the hospitals' current stock.
Represented by Group General Manager Heng Song Teck, Daiman delivered the protective gear sourced from a local supplier to the two local hospitals.
"It is our belief that when everyone in the community plays a part and stays united, we would be able to succeed in fighting this virus. As a company in Johor, Daiman Group will play our role in the fight against COVID-19, by contributing to the safety of our front-line heroes, the well-being of our community and the state's economy. Our doctors and nurses are risking their health and doing their best. We are firmly behind them and hope that Daiman's contribution will help ease the pressures faced by them," said Heng. To strengthen the support programme, Daiman Group encourages the public to play a part in the donation too.
President of Johor Doctors Association (PDDJ), Dr Ng Kim Fong, was also present, representing the association to coordinate the donation to both hospitals.
Daiman Group's other charity efforts include the Daiman Chase-the-Light Relay, fund donations to the Tunku Laksamana Johor Cancer Foundation, tree-planting projects and many more to give back to the community, society and environment.
Daiman Group was founded in 1972 covering 5 main business areas – Property Development, Property Investment, Hotel, Trading and Sports. 2 of the projects in Taman Gaya and Menara Landmark are situated within close proximity to both general hospitals receiving the donation.