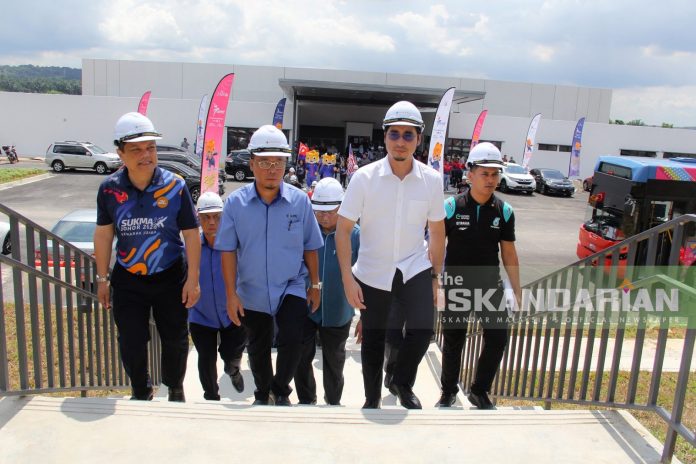 Arena Emas, Taman Impian Emas constructed by Kumpulan Prasarana Rakyat Johor Sdn. Bhd (KPRJ) with a cost of RM31 million has received praise from the Deputy Youth and Sports Minister, Senator Wan Ahmad Fayhsal Wan Ahmad Kamal.
The Arena Emas, which caters to four events – archery, petanque, lawn bowl and squash – is located about 18 kilometres from the city centre of Johor and will definitely be an allure for athletes competing at the SUKMA XX Johor 2020 next year.
Wan Ahmad Fayhsal, who paid a two-day venue visit to Johor praised Johor's ability in building state-of-the-art facilities that can accommodate four different events at the Arena Emas.
He was also happy to see the state's preparations for the national biennial games going in full swing despite the global COVID-19 pandemic which has hit the country for majority of the year.
"This shows that the state of Johor is really ready to host the Malaysian Games next year. In fact, all these modern and sophisticated facilities can also be used for international sporting events," he said while conducting a recce at the Arena Emas.
According to the Chief Executive Officer of KPRJ, Dato' Mohd Noorazam Osman, through its subsidiary KPRJ Builders Sdn. Bhd is responsible in developing the Arena Emas in an area of 18.31 acres which also provides sports facilities for the archery, petanque, bowling and squash events at the Taman Impian Emas campground and recreation site.
"We at KPRJ are not only involved in the construction of Arena Emas but are also tasked to develop venues such as the Athletics Stadium, Rugby, Shooting Range in Mount Austin, Velodrome Johor and BMX track in Iskandar Puteri, three football fields at the Iskandar Puteri City Council Football Square and also the sailing facilities in Desaru, Kota Tinggi. For the record, the building works on Arena Emas started on 15th February 2019 and is now 93.82% complete," he said.
Meanwhile, a total of RM467.9 million has been spent to complete world-class facilities as well as upgrading existing facilities. A total of RM325.9 million has been spent by the state government while an allocation was also received from the federal government amounting to RM142 million.
Earlier, Wan Ahmad Fayhsal also visited the Iskandar Puteri City Council Football Square which is 92.89% complete since work on it also started on 15th February last year, Johor Basketball Stadium in Arena Larkin, Nusa Duta Tennis Complex and Velodrome Johor in Iskandar Puteri.
Existing venues that were given a facelift include Taman Daya Hockey Stadium, Larkin Arena Aquatic Centre, Pasir Gudang Municipal Council Stadium, Taman Johor Jaya Multipurpose Hall for wushu, Johor Cricket Council Academy at Mutiara Rini and Sireh Park, Iskandar Puteri for MTB cycling.
SUKMA XX Johor 2020 will be held in three districts – Johor Bahru, Pagoh and Kota Tinggi. As many as 28 events will be held in Johor Bahru with Pagoh hosting three (canoeing, weightlifting and silambam) and Kota Tinggi hosting the remaining two – cruise and bike riding.